XL Bolt-On Configuration Studio
Manage Many XL Device Configurations
With a Single Tool

Provides users who manage Vorne XL devices with unprecedented visibility into and manipulation of the elements of configuration. This powerful toolincreases the efficiency and effectiveness of those who configure and manage Vorne XL devices.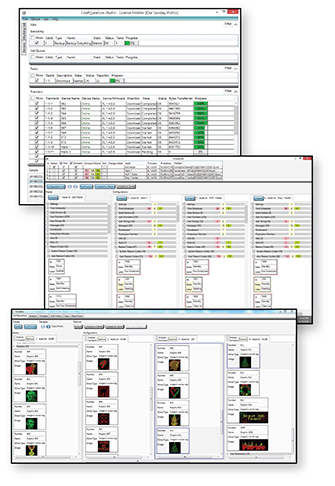 Multiple Challenges:
Do you need to:

Keep XL's "in sync" without the need to change "each device" individually and manually
Distribute entire configuration or just parts if other parts must remain unique
Safeguard XL Configurations and on-board data AUTOMATICALLY
Receive E-mail notifications if an XL configuration changes
Navigate configurations to see all elements side-by-side in a tree-structure

Visualize color coded/highlighted differences of XL configuration elements
Compare XL configurations to the original template to see what customization was made
Extract Reason Codes, Jobs and Parts
Issue Commands (Clear Error, Set Clock, Set Passwords, XL-II Protocol)
Copy/Paste individual messages, programs and other items from one configuration to another
Edit Graphic Images for corporate branding, motivation or messaging.

One Solution:
The XL Bolt-On Configuration Studio!
Send copies of entire configurations or individual configuration components like All Production pages, schedules and part-lists to multiple devices with a single command.
Compares configuration to other configurations or the original template and reports what has changed.
Lets users navigate configuration components like messages, programs, user strings, etc., with a tree view.
Free Demo Runtime!
Features and Benefits:
Saves time distributing configurations and sending updated configuration sections to many devices.
Safeguards setup by automatically backing up configurations data with or without historic data
Saves time viewing and comparing multiple configurations side-by-side in a tree format.
Free Demo Runtime!
FAST and EASY!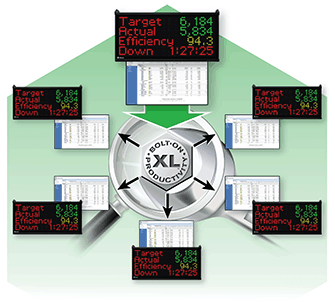 Vorne XL products allow users to configure each device using the built-in web interface. This provides for a stand-alone environment but does not allow for easily examining, manipulating or managing configurations from multiple devices simultaneously.

The XL Bolt-On Configuration Studio completely changes the game. This off-line desktop application allows users to automatically fetch configurations from multiple devices, inspect and investigate those configurations, manipulate them and then send them automatically to one or more devices with simple commands. This eliminates the time to access each configuration in each device independently.
Specifications:

Supported Operating Systems:
Windows 7, Windows Server 2008 or newer
Supported XL Firmware:
XL 0.8.0.0 or higher