XL Bolt-On Display Viewer
Visualize/Socialize
See live data from multiple XL800s on your desktop.
Show live XL800 Data on an LCD/Plasma display.
Duplicate the data from one XL800
to many LCD displays.
Show live XL800 data from one or multiple
XL800s in hallways, break rooms or anywhere.
The XL Bolt-On Display Viewer! This application communicates with the Vorne XL Series Productivity Appliances, continuously fetches the live view and displays this message in a window on your PC's display.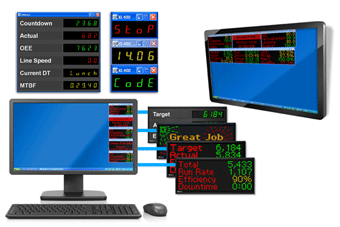 Features and Benefits:
Simple configuration - Supply IP address and device name
Nothing to program, nothing to setup.
Supports multiple XL Devices – one or many on a network
Auto-Launch for Kiosk or unattended displays
Selectable Trim for custom backgrounds and tight arrangements.
Tool Tray Icon for control of runtime parameters and easy startup and locating.
Simple Licensing – file key
Free Demo Runtime!
FAST!
Specifications:

Supported Operating Systems:
Windows 7, Windows Server 2008 or newer
Supported XL Firmware:
XL 1.0.0.0 or higher