Introduction

You have Vorne XL and factory floor PCs, HMIs or Tablets and you want to use their power and flexibility to control and command the XL. The XBHMI software lets operators do everything the XL's barcode scanner can do and more!
Designed with touch-screen or tablets in mind where no keyboard or mouse is available. The buttons are large for easy access with gloved fingers and confirmations are configurable for every button to ensure intentionality.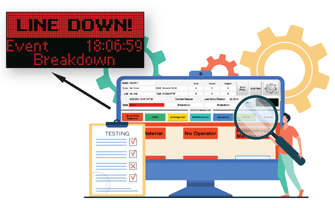 The Challenges:
Do you need to:

Submit downtime reasons with the single touch of a button?

Provide quality/reject input with dynamic quantity?
Provide your operators with live feedback from the XL when they are in a location that doesn't have visibility to the physical scoreboard?
Indicate new team start/finish with dynamic manpower quantity?
Use the Vorne XL in clean room or explosion hazard environments where operators must use wash-down, sealed touch screens or tablets instead of barcode scanners and barcode sheets?

Have your operators select and start jobs from a dynamic list that updates from your MES/ERP system automatically?

Operate the XL manually to indicate when production is "Running" or "Down"?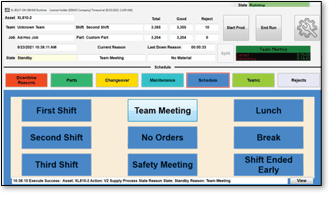 Control Shifts, Breaks and Meetings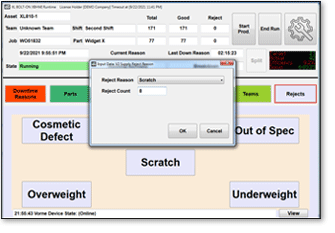 User Supplied Reject Quantities!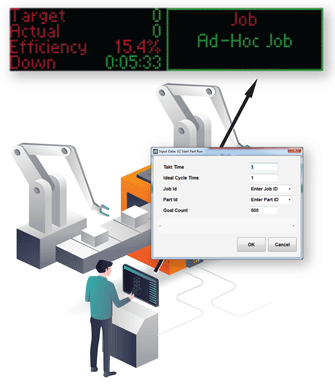 The Solution:
The XL Bolt-On HMI!

This Windows™ Desktop Application communicates with the Vorne XL to send the same commands as barcode scanners but without the scan gun, cables or barcode sheets!
For as little as $495*, operators can select downtime, submit reject quantities, start jobs and part runs and control schedules

Setup in minutes with configurable button count & spacing, acknowledgements, trim colors, fonts, text labels and more!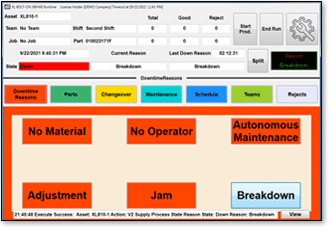 Features and Benefits:
Auto start on Windows™ login.
Can co-exist with other applications or exclude access from the desktop.
Password protected configuration.
Configurable number of pages & buttons on each page.
Simple Licensing – file key
Free Demo Runtime – 2 hours; resettable
FAST and EASY
Advanced Version Features:
Scoreboard View in header and screen saver!
Talks to any database via ODBC driver to query database to provide job list.
Operator pushbutton triggered E-mailing
Requirements:
MS Windows 7, 10 or newer based PC, Tablet or HMI
2GB Free Ram
Wired or wireless Ethernet connection to Vorne XL