Communicate Using OPC Clients
Move data automatically between your Vorne
XL Productivity Appliance and your PLC's.
Bridge your MES to the Vorne XL Productivity Appliance for data interaction.
Automatically page when production stops or
attention is needed on a production line.
Combine and totalize information from several
lines or areas to one display.
The XL Bolt-On OPC Server! This OPC Server handles all
communication with the Vorne XL Series Productivity Appliances, so that you can read and write data values using your favorite OPC client tools for bridging, paging, visualization, etc.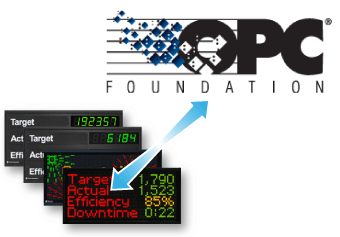 Features and Benefits:
Simple configuration - Supply IP address and device name
All available data items pre-defined – no more "building tags"
Supports multiple XL Devices – one or many on a network
Simulation Mode – configure and test without device present
Built-in tag explorer – no more guessing at tag syntax or typos
Communication Statistics – troubleshoot communication
Simple Licensing – file key
Free Demo Runtime!
FAST!
Specifications:

Supported Operating Systems:
Windows 7, Windows Server 2008 or newer
Supported XL Firmware:
XL 0.8.0.8 or higher