Link Your Manufacturing Data to XL
Automatically move data between your SQL
Database and Vorne XL Productivity Appliance.
Automatically look up production standards and
other job information.
Continuously move data from PLC's to the Vorne XL.
Combine and totalize information from several production lines or areas to one XL display.
The XL Bolt-On Data Link! This Application drives and routes data between the Vorne XL Series Productivity Appliances and databases and from other automation equipment. No programming required. Just browse for OPC Tags and select different options for moving data.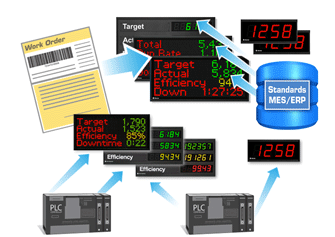 As systems become more complex, the ability to move information in real-time between systems becomes more important. The XL Bolt-On Data Link provides the tools to move data from automation devices to XLs on the manufacturing floor. The PLC Data Link allows real-time reading of data from any OPC Server. If your PLC has Ethernet, you can integrate this data with your Vorne XL using the PLC Data Link. The Software Data Link provides both an engine and ODBC connectivity to link XL with your databases and other back-end IT systems. Advanced scripting with the C#/VB.net tools in the Software Data Link allow advanced customization.
Features and Benefits:
Includes XL Bolt-On OPC Server for communication with XL Devices.
Simple Configuration - No programming required!
Runs as Windows Service, no login required.
Talks to other 3rd party OPC DA servers to read data from PLCs*.
Talks to MSSQL via ODBC driver.
C#/VB.net Scripting Engine
Built-in tag browser – no more guessing at tag syntax or typos.
Supports multiple XL Devices – one or many on a network.
Simple Licensing – file key.
Free Demo Runtime – 3 XL devices for 2 hours; resettable
FAST!
Specifications:

Supported Operating Systems:
Windows 7, Windows Server 2008 or newer
Supported Database Servers:
MSSQL 2005, MSSQL 2008-R2 or newer
Supported XL Firmware:
XL 0.8.0.0 or higher
*3rd party OPC server not supplied

For Arbitrary Barcode Scanning:
Scanner Reprogramming Instructions &
Aladdin Software